For 2018, I realized I only had one vacation before this- my trip to Japan. So when the opportunity came in the form of my officemate, Fatz, a surfer and an honorary Baler local (lol). We turned the drawing to reality.
We booked our tickets for our 3D2N stay (Dec 18-20, Tues-Thurs) near the end of November through Joy Bus using iwantseats.com.ph. Fare was at P700 per head (one-way) plus P30 additional per ticket for online reservations for their Deluxe buses (straight trip, in-bus toilet, and reclining chairs). It was extremely convenient because they had multiple payment channels, and transportation costs to reserve tickets physically would have been a hassle not to mention more expensive. I also appreciate the extra leg space.
Since Fatz was a Baler regular, she also helped us book our accommodation at Pleasant Valley Guesthouse. It was P550 per head per night.
Our bus leaves at 12:30am from their New York, Cubao terminal, and 4 of us would be coming from our company Christmas Party in Rockwell, Makati. It was a challenging start of the trip for the INTJs in the group (Karlyn and I) because Armen and Mai were too laid-back to leave the party when it was almost 11pm and we haven't even booked a Grab yet. It didn't seem to register to them that we were passing EDSA which is not really known for express travel. Karlyn and I were exchanging rants on how frustrated we were, knowing about the slow-moving traffic awaiting us, especially since we mentioned ahead that we need to leave the party by 10pm.
It was around 11pm when they finished packing and changing their clothes when Dane and I started booking. Then we realized that we were doomed because we can't get any Grab services to take us to the terminal. If it weren't for our officemate, Lu, who coincidentally was about to go home, fortunately, brought a car that could fit 5 passengers, and offered to drop us off, we would have missed our bus.
We arrived before 12am, claimed our tickets from the vouchers they emailed, and we were seated on the bus not long after. We left around 10 to 1am.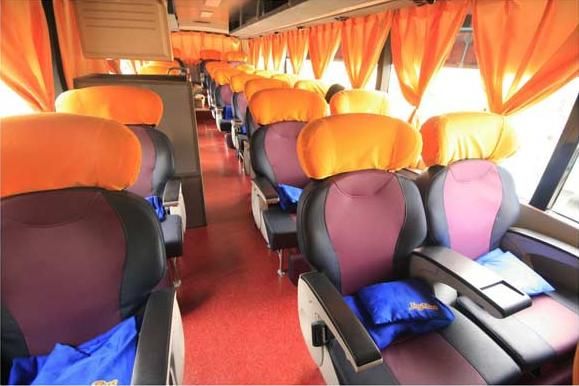 At the start of the trip, they gave out a 300mL bottled water, a biscuit, and a blanket, which I appreciated a lot.
For those who are not used to cold environments, I highly suggest bringing a jacket. Note that I had a jacket on, a scarf over me, and the blanket and I was still cold. Part of it was possibly because the wind from aircon of the person in front of me was hitting my face and I didn't bother to adjust, but regardless. Since I'm a very light sleeper, it was extremely difficult for me to sleep as well.
Bus rides to Baler would be between 5-7 hours. We arrived in Baler terminal at around 5:20am, got into a tricycle (P14 per head, minimum fare), which was right in the terminal, and headed to our accommodation to get a bit of decent sleep. The locals were also very friendly.
The rooms were in the form of cottages, no front desk/ receptionist to welcome you. We were assisted by their staff when one of the tricycle drivers helped us call for their attention. Check-in time is at 2pm and check-out is at 12nn. But since there were no one in our rooms (or maybe because Fatz is a "local"), they had no issues (or additional payment) with us checking in at 6am. We caught a bit of sleep before starting our day.
Baler's primary mode of transport besides walking is tricycles. Pleasant Valley is located a bit on the inner part so these transports weren't readily available right outside, but instead a 2-3 minute walk is necessary to get to the main road. Fatz and his boyfriend, Dong, own a tricycle, so travels were a bit more convenient for some of us.
By 8am, we decided to get breakfast. Fatz took us to El Teodoro Restaurantwhere most of us had Tapsilog. Food price starts at P65. Their Tapsilog was different than usual, because it was served as flakes- dry, but savory. I wasn't impressed or anything, but it was delicious.
We went back to our guesthouse after to get further rest. I dozed off a second time.
We were supposed to get lunch by 11am at Kusina Luntian, but it was unfortunately closed, so we decided to drop by Yellowfin Bar and Grill, which was also closed. Therefore, we ended up in Crash Pad. A very Instagrammable restaurant. Their food is affordable and starts at P100. Pizzas are around P200, Pasta around P200.
We had their famous Crocodile Pizza (P200), Pepperoni Pizza, Soy Honey Garlic Wings (P115), Salmon in cream pasta, Garlic Shrooms (P150), Fried squid. The Crocodile Pizza also didn't taste any different than any other meat, probably because it was overpowered with their sauce and cheese, but it was delicious. The Soy Honey Garlic Wings is Fatz's favorite go-to, but I was a bit underwhelmed. Garic Shrooms (button mushrooms.. in garlic) were basic, but it was probably my favorite. Karlyn also loved the pasta, but I was disappointed due to its lack of flavor (I have high standards for pasta of all things), although Karlyn loved it.
After lunch, we went back to our cottages in Pleasant Valley to rest some more, via riding a trike (P14 per head). Some of you might think that we're a boring bunch, but we purposely made our Day 1 very chill, which I super appreciated because I was feeling too tired lol.
By 3pm, Fatz was fetching us from our rooms so we can head out to surf. Since Fatz and her boyfriend are locals, they took us to a secluded beach area called Secret Spot to do surfing. There were not much people unlike the Main Beach where you'll probably hit other tourists while surfing.
Surf lessons are at P350 per hour per head, inclusive of an instructor and board rental, while it cannot go lower than P300 for frequent goers. Baler has regulated the price point to avoid abuse, although there are those who are not registered with the surfing association who only charge P200-250. The latter means that you may be taught by non-surfers, who may possibly not know how to choose waves, or save a life if need be. Safety first! If you're in Sabang Beach, then please do check out Frus Oyat Surf School! Surfing Association-registered with friendly and pro surfers 🙂
To aim for more beginner-friendly waves, we walked to the other end of the beach where waters were far calmer. To get there one has to swim or paddle using their surf boards. But for people who do not like to get wet like me, there's a boat available to take you to the other side for only P5 per head. Fatz accompanied me.
Unfortunately, I won't share much on the surfing experience because I'm a killjoy who didn't try due to my intense fear of bodies of water. But all of the rest of them did so. What I did was capture their surfing joys and fails instead.
It's highly advisable to wear rash guards (or long sleeves) when you surf. According to Armen (who was wearing sando at the time), there were frictions on his biceps which caused some burns/bruise that can be avoided by wearing long sleeves.
As you can see on the photos, the stretch of the beach only had our group, so not only did my friends get IG-worthy photobomb-free shots, but also be confident enough that they won't hit someone when they fall or jump off the boards.
After an hour of their surf lessons at around 5pm, and me desperately not wanting to get wet from the water while taking photos, we went back as it started to rain. Since Kar had to work and Mai and Dane were a bit tired from surfing, so us 4 took the boat back to the other side of the beach and met up with the rest to sit down in one of the kubos to rest, while I was freezing cold despite not being dipped into the water.
We were supposed to go back to our guesthouse to wash up but decided against it later on since we all knew that after a bath, we'll all be too lazy to leave for dinner. So we ended up hitting the road to check on Yellowfin Bar and Grill. Unfortunately, the place was packed and most of the people just started with their meals. We ended up in Hungry Surfer at Bay's Inn instead.
We ordered food and played Jenga. Thing to note, waiting time from restaurants are usually 45 minutes, so it was good to have something to kill time. We ordered squid, paco salad, pork sinigang, and liempo. Everything was okay, not stellar but not bad either.
That night, I started to feel a bit ill with bad headache- probably due to the weather and the exhaustion from the trip. So Dane and I left the dinner place, ride a trike and go back to Pleasant Valley, while the rest went to 7-Eleven to get snacks.
When we arrived, I was lying down the bed when I realized my phone was not with me. I used Dane's phone to call my number and good thing someone answered. Apparently, I left my phone in the trike and the driver's wife answered. Good thing no other passengers rode their trike yet as my phone was also on silent mode, and it's a good thing they noticed it was lighting up for my call. All they asked for to bring it back was for me to pay for their trip back to our guesthouse. I gave them P100, and they started to reach out for change when I mentioned there's no need for that. It was when I really realized that people from Baler are not only friendly, but they are also honest. They weren't expecting any more than the measly P14 minimum fare for me to pay for, when in fact, my phone, a Huawei P10 just a bit over a year old might be worth at least P20k as a secondhand.
Since I was still feeling sick, I went back to bed right after to lie down. Karlyn came about a couple minutes after to hand me some medicine, check if I had fever and give me advice. It was such a touching moment. I dozed off not long after.