A new place in Binondo opened up at one of the oldest heritage gems- the former HSBC building at the corner of Juan Luna and Escolta. This 97-year old building was erected in 1922 and was renovated into where the 1919 Grand Cafe stands. The cafe keeps the original facade of the jewel and polished into a modern industrial design while maintaining iconic structures such as the derivative ionic columns from the classical era. This made the overall ambiance of the cafe another imprinted memory of old Manila.

Of course, being someone who has lived in Binondo all her life, I just had to visit it. Unfortunately, the place was normally packed and it would be boring (and more expensive) to eat in the place by myself. Thus, when my best friend, Armen, thought of celebrating his birthday in this place, I just had no reason not to go.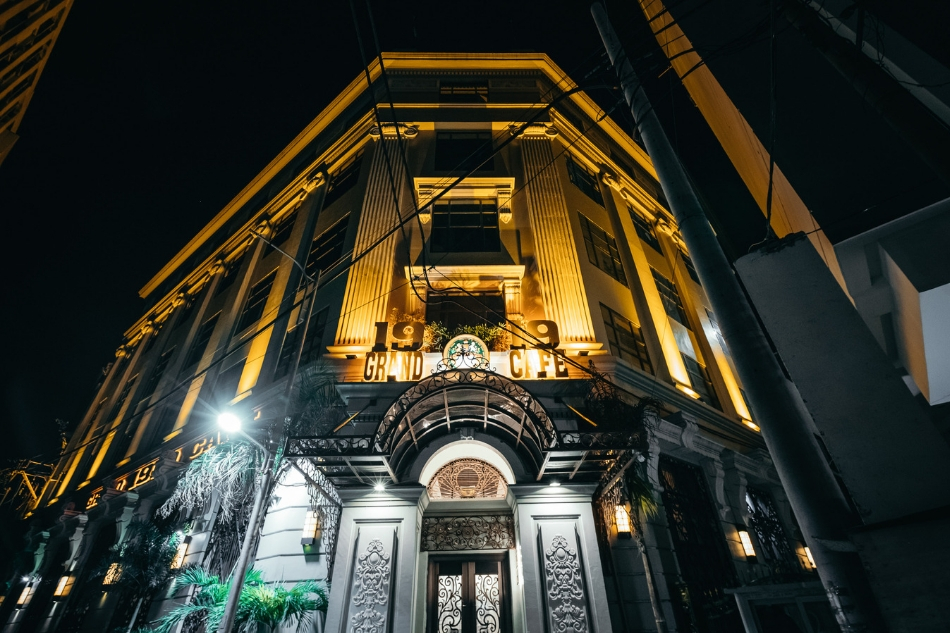 We booked a reservation via call for 8pm on a Monday. There is no allotted parking space per se, but you can park alongside the streets near the area with no parking fee.
Upon arrival, we were greeted by their security guard outside, and their friendly hostess as we entered. Despite saying it was okay not to be accompanied (we already saw Armen and Louie upstairs from our view by the door), the hostess insisted and even took us to the table.

The place was not as packed as expected which was probably because it was a weekday. THE PLACE IS GORGEOUS. Hands down. From the facade to the interior design, everything was fully thought off.
Upon arrival, the server asked us if we wanted cold or warm water. Krystel and I had warm, while Armen and Louie had cold water served ahead. (Mentioned this to share something at the later part of our experience)
Food started to arrive one by one after about 20 minutes. We ordered a total of 6 dishes, 2 desserts and 1 drink.

Note that this is an honest review of the place AND the food.
We started our meal with their small Four Kinds of Cheese Pizza (8 or 9in) since it was the reason why we dined in the place after seeing it in a Facebook group. It instantly became a crowd favorite for us four. The pizza didn't have an umay factor, the dough was the right thickness and was well-cooked. From a cheese lover's words (aka Armen's), "Willing ako iexchange yung isa sa dishes to get another of this pizza instead, ganun siya kasarap for me."
Overall rating for me is 4.5/5 (MUST TRY!)
Being the ultimate pasta AND seafood lover in the group, I looked forward to the Seafood Pasta. Unfortunately, it didn't live up to my expectation- while all the the seafood ingredients (fish, squid, mussels) were fresh and cooked at the correct time, the pasta didn't hit that perfect al dente, tolerable, but was cooked a couple minutes too much. It's also pretty expensive for its taste- something you can easily recreate- which is how I typically rate a dish. If it was spicy, it would have upped the taste. I prefer Pancake House's Seafood Gambero over this at any day.
Overall rating for me is 3/5

The next dish I tried was their Pesto Pasta, admittedly I'm not a huge fan of pestos in general, but it's one of Krystel's most favorite food. The pesto had no other ingredient apart from itself. It had e right amount of spice that will make you want to take another bite of, but again, the pasta was a little bit overcooked. Tolerable, yet can Theeasily make shr break dish. The ish isn't anything I'd look for, but I'd prefer it over Cafe France's. But definitely not worth it for its price.
Overall rating for me is 3.5/5
Next one I tried is their Baked Rice Caldereta. It was okay, but I was a bit underwhelmed due to its flat texture, probably because it was baked. There was nothing to break off the monotonous ingredients' texture, which would have made the dish much more exciting to eat.
Overall rating for me is 4/5
Their Herb Chicken Parmesan, surprisingly was my second favorite. It was a bit dry, but the skin's saltier taste and texture balanced the natural blander taste of what I assume are chicken breasts. What made me appreciate it more were the grilled tomatoes, where, when eaten with the chicken saves the dryness of the meat and also allows a break off the savory flavor. I think people won't automatically assume that the tomatoes were supposed to be eaten with the chicken due to its big size which resembles more of a garnish in my opinion. Smaller cuts or bite-sized tomatoes (but not cherry ones since the taste will differ) would make it more obvious.
Overall rating for me is 4/5
Next on the list is the Thai Chicken Salad. The chicken tasted like it's supposed to be according to Armen and Louie. However I was definitely distracted by how wet the salad was. Seemed like the vegetables were not drained enough before tossing. But overall, it was decent, especially for its price.
Overall rating for me is 3.5/5
One of the things I consider when assessing customer service is the service water- glasses should not be left empty. There were a couple times it was left empty, which was understandable considering the tiny size of their drinking cups (an entirely different matter). Mid-way of our dinner, our glasses were refilled by their staff, however, we were all served warm water as refills continuously as opposed to Armen and Louie having cold when we arrived.
Anyway, continuing on, we also ordered desserts!
The Blueberry (Cheese) Cake was.. okay. Just okay. Slice is a bit bigger than your normal cake slice in coffee shops, but it's also a little bit more expensive. There was also too much blueberry (which may be a good thing for some), but in my opinion, it was taking over the taste of what's supposed to be a balance between crust, cheesecake, and blueberries. The cheesecake itself did not set to a nice firm yet soft batter although it was not that bad. For now, my most favorite is still Mary Grace's Cheesecake.
Overall rating for me is 3/5
Crumbs. Their Red Velvet Cake was crumbling whenever you dig a fork to get a bite, which made it a bit messy. The cake filling was also too sweet- sugar sweet- than it should be. Possibly decreasing the filling layer in between to one instead of two can help, or entirely reducing the amount of sugar involved.
Overall rating for me is 3/5
So the price of their coffee is hotel-like. This Cappuccino is P180 per cup, with a side of biscuit. Didn't get a taste of it but Louie mentioned that it tasted good.
Overall rating is 4.5/5
After eating, we had a bit of a photoshoot session to maximize the place. I'm truly hands down to the designer. The place is really classy and worth taking your relatives or colleagues from outside the country.
Ground floor photos:
Second floor photos:
Overall, the food is not really the primary thing you should look forward to. I'm not saying it's bad, I'm just saying they don't rank at the top for taste.
The ambience of the place is what you really pay for and it's really worth it.
Overall summary and ratings:
Food: 3.5/5
Service: 4/5
Ambience: 5/5
Price range: P400+ per dish
Budget: P700-1500 per head
Would we try again? Yes, but we won't be looking for it.
1919 Grand Cafe
117 Juan Luna St, Binondo, Manila, 1006 Metro Manila
Phone: (02) 429 7068
Open 11am to 11pm daily